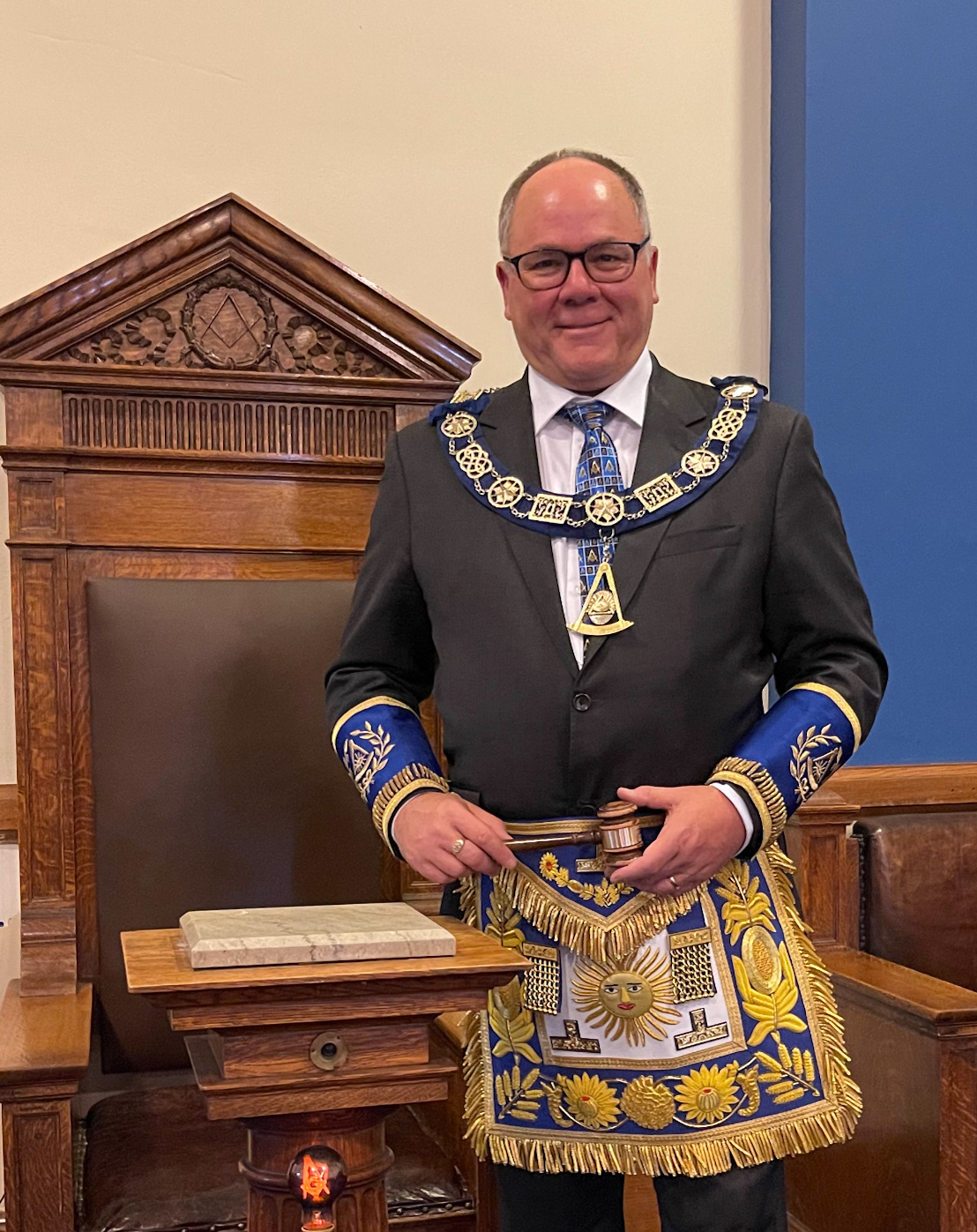 Grand Master 2022 - 2023
MW Bro. Dean Elliott
The Grand Lodge of Saskatchewan, whose mission is "To be the Fraternal Organization of Choice for Men in the Province of Saskatchewan," is pleased to announce that Bro. Dean Elliott was elected Grand Master of Saskatchewan Freemasons at their 116th Annual Communication in Swift Current on June 18, 2022.  As Grand Master, he will preside over the 2000 Saskatchewan Freemasons in 48 constituent Lodges.
MW Bro. Dean Elliott was received into Freemasons in Mystic Tie Lodge No, 213 in Saskatoon, Saskatchewan in 1988, serving as Worshipful Master in 1996 and 1997 and as DDGM for District No. 10 in 1998-99. He is actively involved in York Rite and Scottish Rite bodies, including Royal Arch, Cryptic Rite, Preceptory and Allied Masonic Degrees and is a member of Wa Wa Shrine.
He has been married to Lorey for 34 years and they have three children, Michael, Trisha and Michelle. MW Bro. Elliott retired from a career in K-12 education in Saskatchewan in 2020 and currently operates an educational consulting business.
Grand Lodge Officers
GRAND LODGE OFFICERS 2022 - 23
Grand Master: MW Bro. Dean Elliott (213)
Deputy Grand Master: RW Bro. Jonas Cossette (2)
Grand Senior Warden: RW Bro. Patrick Davis (213)
Grand Junior Warden: RW Bro. Troy LeBlanc (25)
Grand Treasurer: RW Bro. Dick Gutfriend (11)
Grand Secretary pro-tem: MW Bro. Richard Brown (49)
Grand Registrar: RW Bro. Chris Beebe (104)
Grand Tyler: VW Bro. Mike Derbawka (213)
APPOINTED OFFICERS
Grand Chaplain – VW Bro. Ronald B. Cairns (71)
Grand Senior Deacon – VW Bro. James Boswell (13)
Grand Junior Deacon – VW Bro. Nathan Adams (86)
Grand Director of Ceremonies – VW Bro. Terry Madole (2)
Grand Superintendent of Works – VW Bro. Ryan Jeffery (213)
Grand Organist – RW  Bro. Wayne Flaten (49)
Grand Pursuivant – VW Bro. Nikola Levnaich (213)
DISTRICT ELECTED & APPOINTED OFFICERS
DISTRICT DEPUTY GRAND MASTERS
Dist. No. 1 - RW Bro. Greg Grimshaw (145)
Dist. No. 2 - RW Bro. Mike Keogan (174)
Dist. No. 3 - RW Bro. Stu Doherty (3)
Dist. No. 4 - RW Bro. Ross Young (12)
Dist. No. 5 - RW Bro. Erwin Serrano-Marbella (217)
Dist. No. 6 - RW Bro. Joseph Angel (13)
Dist. No. 7 - RW Bro. Mark Barclay (31)
Dist. No. 8 - RW Bro. Ryan Starosta (85)
Dist. No. 9 - RW Bro. Nathan Reeves (25)
Dist. No. 10 - RW Bro. Thomas Howe (99)
DISTRICT STEWARDS
RW Bro. Walt Jansen (18)
VW Bro. Chris Weldon (49)
VW Bro. Craig Peterson (106)
VW Bro. Bart Rustad (12)
VW Bro. Gary Valledor (217)
VW Bro. Norman Tatton (13)
VW Bro. Kevin Garner (31)
VW Bro. Gerald Clark (85)
VW Bro. Jeff Young (15)
VW Bro. Larry Gerein (75)
OTHER APPOINTMENTS
Grand Piper - Bro. Brad Fenty (13)
Webmaster –  MW Bro. Dean Elliott (213)
Past Grand Masters
| | | |
| --- | --- | --- |
| Year | Name | Lodge Name |
| 2021 | D. Olmsted | Swift Current Lodge No. 26 |
| 2020 | D. Olmsted | Swift Current Lodge No. 26 |
| 2019 | R. Montague | Asquith-Harmony Lodge No. 75 |
| 2018 | D. Ford | N.W.M.P Lodge No. 11 |
| 2017 + | R. Sherstobitoff | Imperial Lodge No. 60 |
| 2016 | D. Polachek | Yorkton Lodge No. 12 |
| 2015 | D. Abel | N.W.M.P. Lodge No. 11 |
| 2014 | J. Leyshon | Swift Current Lodge No. 26 |
| 2013 | J. Colenutt | King Hiram Lodge No. 104 |
| 2012 | C. Krause | Elstow Lodge No. 147 |
| 2011 | D. Skuce | Lodge Progress No. 92 |
| 2010 | E. Butz | Wascana Lodge No. 2 |
| 2009 | R. Galloway | Kinistino Lodge No. 1 |
| 2008 + | P. Hutchison | Ionic Lodge No. 31 |
| 2007 | F. Hester | Maple Leaf Lodge No. 9 |
| 2006 + | W. Pizzey | Lodge Progress No. 92 |
| 2005 | W.C. Fitzsimmons | Twin City Lodge N0. 89 |
| 2004 | D.A. Finan | Ionic Lodge No. 31 |
| 2003 | R.C. Moffatt | Memorial Lodge No. 172 |
| 2002 + | J.S. MacLachlan | N.W.M.P. Lodge No. 11 |
| 2001 + | R.C. Castle | Victory Lodge No. 144 |
| 2000 + | J.J. McNamee | St. Andrews Lodge No. 174 |
| 1999 | B.W. Dixon | Glenedyth Lodge No. 188 |
| 1998 + | d'A.H. Morrice | Swift Current Lodge No. 26 |
| 1997 | R.A.H. Brown | Assiniboia Lodge No. 49 |
| 1996 + | R.J. Coulson | St. Andrews Lodge No. 174 |
| 1995 + | R.E. Chapman | Azure Lodge No. 122 |
| 1994 + | N.G. Cook | Elrose Lodge No. 135 |
| 1993 + | J.P. Brooks | Elfros Lodge No. 145 |
| 1992 + | D.D. McDonald | Asquith Lodge No. 146 |
| 1991 + | E.A. Snell | Moose Jaw Lodge No. 3 |
| 1990 + | D.A. Rennie | Lodge Progress No. 92 |
| 1989 + | S.F. Tickner | Memorial Lodge No. 172 |
| 1988 + | D.A. Orr | Elstow Lodge No. 147 |
| 1987 * | W.R. Wellman | St. Andrew's Lodge No. 174 |
| 1986 | O.E. Mything | Glenedyth Lodge No. 188 |
| 1985 + | W.S. Fitzsimmons | Twin City Lodge No. 89 |
| 1984 + | A.J. Dutton | Friendship Lodge No. 212 |
| 1983 + | N.H. Korpan | Imperial Lodge No. 60 |
| 1982 + | G.K. Halldorson | Elfros Lodge No. 145 |
| 1981 + | H.H. Astbury | King Hiram Lodge No. 104 |
| 1980 + | P.H.S. Campbell | Assiniboia Lodge No. 49 |
| 1979 + | D.B. Saunders | Wolseley-Sintaluta Lodge No. 24 |
| 1978 + | J. Melymick | Victory Lodge No. 144 |
| 1977 + | J.A. Robinson | Weyburn Lodge No. 20 |
| 1976 + | L. Gwinn | Twin City Lodge No. 89 |
| 1975 + | J. Nixon | Assiniboia Lodge No. 49 |
| 1974 + | R. Duff | Northern Star Lodge No. 216 |
| 1973 + | J. Morland | Elrose Lodge No. 135 |
| 1972 + | C.J. Calvert | Ionic Lodge No. 31 |
| 1971 + | M.J. Woods | Mossbank Lodge No. 129 |
| 1970 | R.C. Woods | Carrot River Lodge No. 69 |
| 1969 + | H.A. Lewis | Gray Lodge No. 176 |
| 1968 + | T.C.M. Nixon | Melville Lodge No. 62 |
| 1967 + | D.L. Gibson | Imperial Lodge No. 60 |
| 1966 + | B.K. Hansen | Eatonia Lodge No. 207 |
| 1965 + | S.J. Leach | Twin City Lodge No. 89 |
| 1964 + | T.W. Garland | Mount Herman Lodge No. 124 |
| 1963 + | T.M. Spencer | Assiniboia Lodge No. 49 |
| 1962 + | A. Wilson | Moose Jaw Lodge No. 3 |
| 1961 + | J.E. Burt | Sovereign Lodge No. 192 |
| 1960 + | L.H. Bergstrom | Boscurvis Lodge No. 39 |
| 1959 + | M. Herman | Davidson Lodge No. 33 |
| 1958 + | R. Mayson | Kinistino Lodge No. 1 |
| 1957 + | T.R. Luke | Yorkton Lodge No. 12 |
| 1956 + | R.C. Hodsman | Banner Lodge No. 154 |
| 1955 + | J.H. Cuddington | Estevan Lodge No. 25 |
| 1954 + | R.E. Partridge | Prince Albert Lodge No. 63 |
| 1953 + | R.L. Hanbidge | Kerrobert Lodge No. 90 |
| 1952 + | G.H. Hummel | St. Andrew's Lodge No. 174 |
| 1951 + | R.R. McEwen | Carrot River Lodge No. 69 |
| 1950 + | F.H. Auld | Emulation Lodge No. 186 |
| 1949 + | W.H. Moor | Saskatchewan Lodge No. 16 |
| 1948 + | F.C. Wilson | Fillmore Lodge No. 163 |
| 1947 + | H. MacKay | Melville Lodge No. 62 |
| 1946 + | W.L. Clink | Battle Lodge No. 19 |
| 1945 + | F. C. Hayes | Swift Current Lodge No. 26 |
| 1944 + | J. C. Carter | Outlook Lodge No. 65 |
| 1943 + | S.J.A. Branion | Prince Albert Lodge No. 63 |
| 1942 + | D. Fraser | Assiniboia Lodge No. 49 |
| 1941 + | C.P. Seeley | Imperial Lodge No. 60 |
| 1940 + | A.O. Brooks | Abernathy Lodge No. 77 |
| 1939 + | H.M. Underhill | Shaunavon Lodge No. 110 |
| 1938 + | S.C. Burton | Emulation Lodge No. 186 |
| 1937 + | M. Musk | Prince Albert Lodge No. 63 |
| 1936 + | LW. Estey | Saskatchewan Lodge No. 16 |
| 1935 + | J.R. Yorke | St. George Lodge No. 136 |
| 1934 + | T.W. Sutherland | Shellbrook Lodge No. 171 |
| 1933 + | N.R. Craig | Doric Lodge No. 71 |
| 1932 + | F.B. Reilly | Wascana Lodge No. 2 |
| 1931 + | J. McGregor | Imperial Lodge No. 60 |
| 1930 + | C.P. Moore | Weyburn Lodge No. 20 |
| 1929 + | H. Clarke | Govan Lodge No. 68 |
| 1928 + | J.K. Irwin | Touchwood Lodge No. 51 |
| 1927 + | W.M. Martin | Wascana Lodge No. 2 |
| 1926 + | W. J. Smith | Shaunavon Lodge No. 110 |
| 1925 + | G. Swain | Imperial Lodge No. 60 |
| 1924 + | D. A. Kingsbury | Rouleau Lodge No. 40 |
| 1923 + | J. W. MacNeil | Battle Lodge No. 19 |
| 1922 + | A. Sheppard | Wascana Lodge No. 2 |
| 1921 + | G. M. Weir | Imperial Lodge No. 60 |
| 1920 + | E. L. Elwood | Moosomin Lodge No. 7 |
| 1919 + | N. B. Williams | Abernathy Lodge No. 77 |
| 1918 + | R. Young | Kinistino Lodge No. 1 |
| 1917 + | J. McCauley | Moose Jaw Lodge No. 3 |
| 1916 + | J. H. Anderson | Imperial Lodge No. 60 |
| 1915 + | W. M. Thomson | Qu'Appelle Valley Lodge No. 4 |
| 1914 + | L. T. McDonald | Wascana Lodge No. 2 |
| 1913 + | W. B. Willoughby | Moose Jaw Lodge No. 3 |
| 1912 + | A. S. Gorrell | Wascana Lodge No. 2 |
| 1911 + | Wm. Hopkins | Saskatchewan Lodge No. 16 |
| 1910 + | W. B. Tate | Qu'Appelle Lodge No. 6 |
| 1909 + | H. Jagger | Moose Jaw Lodge No. 3 |
| 1908 + | C. O. Davidson | Kinistino Lodge No. 1 |
| 1907 + | H. H. Campkin | Indian Head Lodge No. 5 |
| 1906 + | H. H. Campkin | Indian Head Lodge No. 5 |