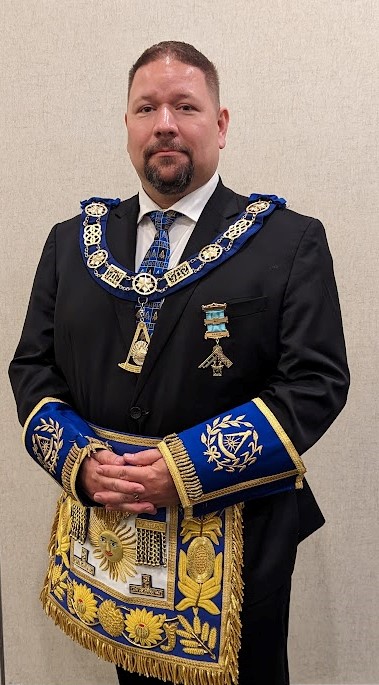 Grand Master 2023 - 2024
MW Bro. Jonas Cossette
The Grand Lodge of Saskatchewan, whose mission is "To be the Fraternal Organization of Choice for Men in the Province of Saskatchewan," is pleased to announce that Bro. Jonas Cossette was elected Grand Master of Saskatchewan Freemasons at their 117th Annual Communication in Saskatoon on June 17, 2023.  As Grand Master, he will preside over the 1,850 Saskatchewan Freemasons in 45 constituent Lodges.
Most Worshipful Brother Cossette was born in Regina in 1980 and attended Grant Road Elementary School and Luther College High School.  He received his Certified Residential Appraiser or "CRA" Designation from the Appraisal Institute of Canada via Sauder University of B.C. Real Estate Division and is currently enrolled in the Urban Economic Development course seeking to obtain his Diploma. Jonas worked in the Restaurant industry for 10 years culminating in owning a Boston Pizza in 2002.  In 2007 he began his career in Real Estate. First as a Residential Appraiser with the Appraisal Institute of Canada and the firm Crown Appraisals.  He then became licensed as a REALTOR® with RE/MAX Crown Real Estate and now acts as one of the Managers of the office.
Jonas was received into Wascana Lodge No. 2 in 2009 and is also an affiliate member of Corinthian Lodge No. 72. He was fortunate to serve as the Worshipful Master of Wascana Lodge in 2017 as well as the Worshipful Master of King Hiram Lodge No. 104 in 2021.  He was a member of the Regina Masonic Temple Company, serving as the President during the 2018 and 2019 years.
Jonas is also a member of the Wa Wa Shrine, Prince of Wales Chapter No. 27 of Royal Arch, Saskatchewan Council No. 6 of Cryptic Rite, and Wascana Preceptory No.51.  He is an active member of the Regina Valley of Scottish Rite, currently serving as the Thrice Puissant Grand Master . He previously served within the Regina Valley of Scottish Rite as Thrice Puissant Grand Master for the Regina Valley of Perfection in 2015, 2020, 2021 and 2022; Most Wise Sovereign for the Regina Chapter of Rose Croix in 2017 and as the Commander in Chief for the Saskatchewan Consistory for the 2019 year. 
Jonas is married to Jill who works alongside him at RE/MAX Crown Real Estate in Regina.  They have two children Kennedy, age 12 and Hudson, age 9.
Grand Lodge Officers
RGRAND LODGE OFFICERS 2023 - 24
Grand Master: MW Bro. Jonas Cossette (2)
Deputy Grand Master: RW Bro. Patrick Davis (213)
Grand Senior Warden: RW Bro. Troy LeBlanc (25)
Grand Junior Warden: RW Bro. Mike Keogan (174)
Grand Treasurer: RW Bro. Greg Lowe (11)
Grand Secretary pro-tem: MW Bro. Richard Brown (49)
Grand Registrar: RW Bro. Chris Beebe (104)
Grand Tyler: VW Bro. Austin Benning (2)
APPOINTED OFFICERS
Grand Chaplain – RW Bro. Coln Zolc (2)
Grand Senior Deacon – VW Bro. Roland Watkins (2)
Grand Junior Deacon – VW Bro. Russ Tataryn (72)
Grand Director of Ceremonies – VW Bro. Terry Madole (2)
Grand Superintendent of Works – VW Bro. Clint Kleisinger (2)
Grand Organist – RW  Bro. Jeremy Cossette (2)
Grand Pursuivant – VW Bro. Kirby Benning (2)
DISTRICT ELECTED & APPOINTED OFFICERS
DISTRICT DEPUTY GRAND MASTERS
Dist. No. 1 - RW Bro. Greg Grimshaw (145)
Dist. No. 2 - RW Bro. John Bower (11)
Dist. No. 3 - RW Bro. Stu Doherty (3)
Dist. No. 4 - RW Bro. Bruce Carnochan (6)
Dist. No. 5 - RW Bro. Erwin Serrano-Marbella (217)
Dist. No. 6 - RW Bro. Adam Green (13)
Dist. No. 7 - RW Bro. Mark Barclay (31)
Dist. No. 8 - RW Bro. Bill McCann (26)
Dist. No. 9 - RW Bro. Nathan Reeves (25)
Dist. No. 10 - RW Bro. Dean Anderson (213)
DISTRICT STEWARDS
RW Bro. Walt Jansen (18)
VW Bro. Jordan Rothwell (174)
VW Bro. Craig Peterson (106)
VW Bro. Kurt Fuchs (6)
VW Bro. Gary Valledor (217)
VW Bro. Ronald Lange (60)
VW Bro. Kevin Garner (31)
RW Bro. Keith Unger (26)
VW Bro. Jeff Young (15)
VW Bro. Chris Hamel (213)
OTHER APPOINTMENTS
Grand Piper -
Webmaster –  MW Bro. Dean Elliott (213)
Past Grand Masters
| | | |
| --- | --- | --- |
| Year | Name | Lodge Name |
| 2022 | D. Elliott | Mystic Tie Lodge No. 213 |
| 2021 | D. Olmsted | Swift Current Lodge No. 26 |
| 2020 | D. Olmsted | Swift Current Lodge No. 26 |
| 2019 | R. Montague | Asquith-Harmony Lodge No. 75 |
| 2018 | D. Ford | N.W.M.P Lodge No. 11 |
| 2017 + | R. Sherstobitoff | Imperial Lodge No. 60 |
| 2016 | D. Polachek | Yorkton Lodge No. 12 |
| 2015 | D. Abel | N.W.M.P. Lodge No. 11 |
| 2014 | J. Leyshon | Swift Current Lodge No. 26 |
| 2013 | J. Colenutt | King Hiram Lodge No. 104 |
| 2012 | C. Krause | Elstow Lodge No. 147 |
| 2011 | D. Skuce | Lodge Progress No. 92 |
| 2010 | E. Butz | Wascana Lodge No. 2 |
| 2009 | R. Galloway | Kinistino Lodge No. 1 |
| 2008 + | P. Hutchison | Ionic Lodge No. 31 |
| 2007 | F. Hester | Maple Leaf Lodge No. 9 |
| 2006 + | W. Pizzey | Lodge Progress No. 92 |
| 2005 | W.C. Fitzsimmons | Twin City Lodge N0. 89 |
| 2004 | D.A. Finan | Ionic Lodge No. 31 |
| 2003 | R.C. Moffatt | Memorial Lodge No. 172 |
| 2002 + | J.S. MacLachlan | N.W.M.P. Lodge No. 11 |
| 2001 + | R.C. Castle | Victory Lodge No. 144 |
| 2000 + | J.J. McNamee | St. Andrews Lodge No. 174 |
| 1999 | B.W. Dixon | Glenedyth Lodge No. 188 |
| 1998 + | d'A.H. Morrice | Swift Current Lodge No. 26 |
| 1997 | R.A.H. Brown | Assiniboia Lodge No. 49 |
| 1996 + | R.J. Coulson | St. Andrews Lodge No. 174 |
| 1995 + | R.E. Chapman | Azure Lodge No. 122 |
| 1994 + | N.G. Cook | Elrose Lodge No. 135 |
| 1993 + | J.P. Brooks | Elfros Lodge No. 145 |
| 1992 + | D.D. McDonald | Asquith Lodge No. 146 |
| 1991 + | E.A. Snell | Moose Jaw Lodge No. 3 |
| 1990 + | D.A. Rennie | Lodge Progress No. 92 |
| 1989 + | S.F. Tickner | Memorial Lodge No. 172 |
| 1988 + | D.A. Orr | Elstow Lodge No. 147 |
| 1987 + | W.R. Wellman | St. Andrew's Lodge No. 174 |
| 1986 + | O.E. Mything | Glenedyth Lodge No. 188 |
| 1985 + | W.S. Fitzsimmons | Twin City Lodge No. 89 |
| 1984 + | A.J. Dutton | Friendship Lodge No. 212 |
| 1983 + | N.H. Korpan | Imperial Lodge No. 60 |
| 1982 + | G.K. Halldorson | Elfros Lodge No. 145 |
| 1981 + | H.H. Astbury | King Hiram Lodge No. 104 |
| 1980 + | P.H.S. Campbell | Assiniboia Lodge No. 49 |
| 1979 + | D.B. Saunders | Wolseley-Sintaluta Lodge No. 24 |
| 1978 + | J. Melymick | Victory Lodge No. 144 |
| 1977 + | J.A. Robinson | Weyburn Lodge No. 20 |
| 1976 + | L. Gwinn | Twin City Lodge No. 89 |
| 1975 + | J. Nixon | Assiniboia Lodge No. 49 |
| 1974 + | R. Duff | Northern Star Lodge No. 216 |
| 1973 + | J. Morland | Elrose Lodge No. 135 |
| 1972 + | C.J. Calvert | Ionic Lodge No. 31 |
| 1971 + | M.J. Woods | Mossbank Lodge No. 129 |
| 1970 + | R.C. Woods | Carrot River Lodge No. 69 |
| 1969 + | H.A. Lewis | Gray Lodge No. 176 |
| 1968 + | T.C.M. Nixon | Melville Lodge No. 62 |
| 1967 + | D.L. Gibson | Imperial Lodge No. 60 |
| 1966 + | B.K. Hansen | Eatonia Lodge No. 207 |
| 1965 + | S.J. Leach | Twin City Lodge No. 89 |
| 1964 + | T.W. Garland | Mount Herman Lodge No. 124 |
| 1963 + | T.M. Spencer | Assiniboia Lodge No. 49 |
| 1962 + | A. Wilson | Moose Jaw Lodge No. 3 |
| 1961 + | J.E. Burt | Sovereign Lodge No. 192 |
| 1960 + | L.H. Bergstrom | Boscurvis Lodge No. 39 |
| 1959 + | M. Herman | Davidson Lodge No. 33 |
| 1958 + | R. Mayson | Kinistino Lodge No. 1 |
| 1957 + | T.R. Luke | Yorkton Lodge No. 12 |
| 1956 + | R.C. Hodsman | Banner Lodge No. 154 |
| 1955 + | J.H. Cuddington | Estevan Lodge No. 25 |
| 1954 + | R.E. Partridge | Prince Albert Lodge No. 63 |
| 1953 + | R.L. Hanbidge | Kerrobert Lodge No. 90 |
| 1952 + | G.H. Hummel | St. Andrew's Lodge No. 174 |
| 1951 + | R.R. McEwen | Carrot River Lodge No. 69 |
| 1950 + | F.H. Auld | Emulation Lodge No. 186 |
| 1949 + | W.H. Moor | Saskatchewan Lodge No. 16 |
| 1948 + | F.C. Wilson | Fillmore Lodge No. 163 |
| 1947 + | H. MacKay | Melville Lodge No. 62 |
| 1946 + | W.L. Clink | Battle Lodge No. 19 |
| 1945 + | F. C. Hayes | Swift Current Lodge No. 26 |
| 1944 + | J. C. Carter | Outlook Lodge No. 65 |
| 1943 + | S.J.A. Branion | Prince Albert Lodge No. 63 |
| 1942 + | D. Fraser | Assiniboia Lodge No. 49 |
| 1941 + | C.P. Seeley | Imperial Lodge No. 60 |
| 1940 + | A.O. Brooks | Abernathy Lodge No. 77 |
| 1939 + | H.M. Underhill | Shaunavon Lodge No. 110 |
| 1938 + | S.C. Burton | Emulation Lodge No. 186 |
| 1937 + | M. Musk | Prince Albert Lodge No. 63 |
| 1936 + | LW. Estey | Saskatchewan Lodge No. 16 |
| 1935 + | J.R. Yorke | St. George Lodge No. 136 |
| 1934 + | T.W. Sutherland | Shellbrook Lodge No. 171 |
| 1933 + | N.R. Craig | Doric Lodge No. 71 |
| 1932 + | F.B. Reilly | Wascana Lodge No. 2 |
| 1931 + | J. McGregor | Imperial Lodge No. 60 |
| 1930 + | C.P. Moore | Weyburn Lodge No. 20 |
| 1929 + | H. Clarke | Govan Lodge No. 68 |
| 1928 + | J.K. Irwin | Touchwood Lodge No. 51 |
| 1927 + | W.M. Martin | Wascana Lodge No. 2 |
| 1926 + | W. J. Smith | Shaunavon Lodge No. 110 |
| 1925 + | G. Swain | Imperial Lodge No. 60 |
| 1924 + | D. A. Kingsbury | Rouleau Lodge No. 40 |
| 1923 + | J. W. MacNeil | Battle Lodge No. 19 |
| 1922 + | A. Sheppard | Wascana Lodge No. 2 |
| 1921 + | G. M. Weir | Imperial Lodge No. 60 |
| 1920 + | E. L. Elwood | Moosomin Lodge No. 7 |
| 1919 + | N. B. Williams | Abernathy Lodge No. 77 |
| 1918 + | R. Young | Kinistino Lodge No. 1 |
| 1917 + | J. McCauley | Moose Jaw Lodge No. 3 |
| 1916 + | J. H. Anderson | Imperial Lodge No. 60 |
| 1915 + | W. M. Thomson | Qu'Appelle Valley Lodge No. 4 |
| 1914 + | L. T. McDonald | Wascana Lodge No. 2 |
| 1913 + | W. B. Willoughby | Moose Jaw Lodge No. 3 |
| 1912 + | A. S. Gorrell | Wascana Lodge No. 2 |
| 1911 + | Wm. Hopkins | Saskatchewan Lodge No. 16 |
| 1910 + | W. B. Tate | Qu'Appelle Lodge No. 6 |
| 1909 + | H. Jagger | Moose Jaw Lodge No. 3 |
| 1908 + | C. O. Davidson | Kinistino Lodge No. 1 |
| 1907 + | H. H. Campkin | Indian Head Lodge No. 5 |
| 1906 + | H. H. Campkin | Indian Head Lodge No. 5 |